PROFESSOR LÁSZLÓ DUNAI, civil engineer, the former Dean of BME's Civil Engineering Faculty, professor and head of the Structural Engineering Department was awarded the Dennis Gabor Prize, based on the NOVOFER Foundations decision, for his work in steel structures numerical model based design approach and his contribution to developing innovative steel and composite structures. This prize also honours his activity connected to historical structures, his contribution to the design of new Danube-bridges and his assistance in the statical design of the structure of special buildings.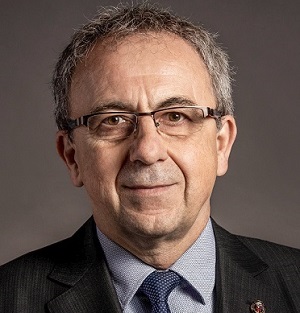 Biography:
László Dunai was born in 1958 at Medgyesegyház. He graduated from the Faculty of Civil Engineering of the Technical University in 1983, received doctorate in 1987 and a doctorate from the Hungarian Academy of Sciences (MTA) in 2008. He is a correspondent member of MTA since 2016. He is the professor and head of Budapest University of Technology and Economics Structural Engineering Department, and the emeritus dean of the Civil Engineering Faculty. He specialises in development and design of steel structures. His work is characterised by both scientific research and engineering. He is currently the leader of a working group developing a European standard for finite element method-based design procedures. He was either an expert, inspector or co-designer of all the major Danube and Tisza bridges in Hungary and the renovation of the historical bridges in Budapest in the last two decades. He is the leader of a number of practical RDI projects as well as static expert work related to priority investments (ELI Laser Centre, Eiffel Hall, Paks2). His national and international research-organising activity is outstandingly successful. He also used his research and development skills in university teaching and talent management work, so far 16 people have obtained a PhD degree under his wings. His outstanding professional work was recognised with the Széchenyi Prize in 2021.
THE DENNIS GABOR PRIZE:
This year, the Dennis Gabor Prize, established in 1989, will be awarded for the 33rd time. This is the most prestigious award in the engineering field in Hungary.
The message of the slogan "Let's find the future" from Dennis Gabor has become especially relevant in all areas of life today (sustainable development, raw material, energy and waste management, employment, etc.), i.e. only a consciously shaped future can provide a solution to our problems. Last June was the 120th anniversary of the birth of Dennis Gabor, and then in December 2021 it was 50 years since he received the Physical Nobel Prize.