In our new series we will show the everyday life of civil engineers working in different fields, to help the to-be and present university students see what opportunities does a civil engineer have.
The first seven interviews of the series are HERE, HERE, HERE, HERE, HERE, HERE and HERE.
Péter Horváth lives in Germany for years, and at the moment he deals with different buildings implementation as a site manager. He worked in Netherland and in Italy too, but he says, it is not worth it to work abroad only for financial reasons. But he recommends for every civil engineer, to go and get some foreign experiences.
Why did you choose being a civil engineer?
When I was a child, I followed through our house's building, I guess this is the point where my interest started. As an incompetent highschool student I tried Faculty of Architecture, but as many later civil engineer I failed in the drawing entrance exam. I am happy that it happenned this way, since starting university, because that would be a totally different direction.
Your specialization was clear from the first time?
At the beginning I've decided that I would like to deal with building implementation. The infrastructure sector, GIS and geodesy were also very interesting, but finally I insisted on my first idea. But BME gave me a good, open-minded approach.
How did your career proceed up to now?
In the last year of university I got a call from a classmate that a company looked for a civil engineer working in Germany. I applied for the job, and they employed me as a project manager, so I was thrown in at the deep and very soon. I was there for three weeks, when I was delegated to a work, which started at that moment. After that everything happened really fast, I have worked in several parts of Germany, and I had a project in Netherlands and in Italy too. After two years I started working as an in-house engineer, which also helped in laying the base of my present job. Now I am a site manager in a general contractor. We make the implementation of turnkey buildings from the first step to the key handover.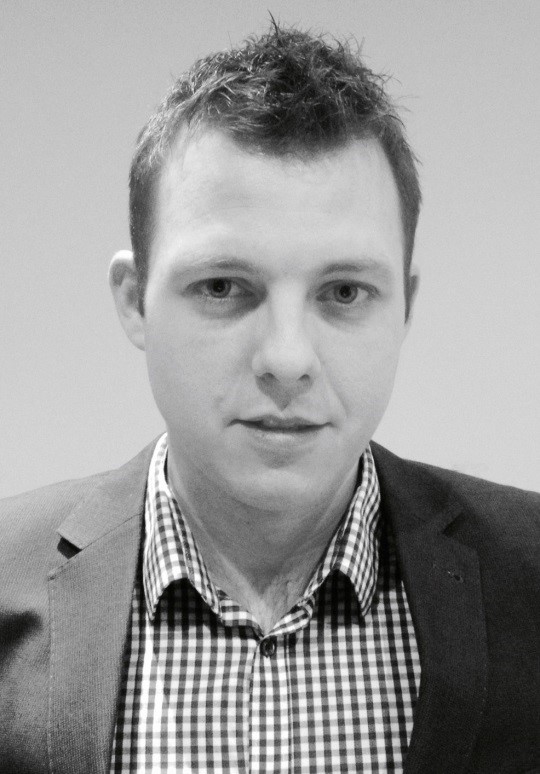 What was your motivation in moving abroad?
I've decided during my university years, that if I have a chance, I will try to work abroad. I've always loved travelling, and maybe because of that I've been open minded. I thought that in Germany I get to know an advanced construction culture and learn more. My main motivation was learning new things, new technologies. Of course financials also count, but I think if someone wants to work abroad only for the money, it will be a disappointment, and she or he will go home soon.
What is the difference between working there or working here?
In Hungary I was working in implementation as an intern, so my comparing is superficial. There are well-marked differences in OSH, responsibility and documentation. In Germany during the building of an apartment house the paperworks are such a big deal like the building itself. Responsibility shift presents here to, but you can deal it properly. My ex-boss said that we need that much papers because if we fall, we can fall soft. It sounds pretty simple in this wording, but the point is this. But here there is no too much pressure and stress. Instead of that, if a problem happens, everyone is looking for the solution.
And wages are significantly higher?
I would not highlight wages, much more the quality of life is higher. This is in connection with financial background, but noone gets rich in one step. You have to work hard for success, but you can get proper wage regarding your work. The wages are better if you compare them with the Hungarians, but it doesn't worth it to move just for money.
You need a confident language knowledge from the beginning?
In Germany there are lots of foreign worker, so noone will be surprised when a Hungarian, Serbian on Turkish specialist hands in her or his CV. Most of them do not have a proper language knowledge, but this fact does not hold them back. And you learn the ropes in practice. Of course you cannot get to higher position without a confident language knowledge, but in the beginning, you do not have to be perfect in that. So this should not be a deterrent effect. They value the efficient work and human attitude, regardless of nationality.
What do you exactly do now, how does your average day look like?
In our company project manager and site manager are not two different positions, site manager takes the responsibility for the whole project. Meetings with the customers, cooperations, subcontractor tendering and commission, transacting and checking the implementation, construction material ordering – these are all parts of the daily routine. My day usually starts in the displaced office. I quickly look over the daily to-do list, I answer emails, make orders, and do the necessary paperworks. Sometimes I have to handle 100-120 emails and a few hours long phone calls a day. I continue my day on the construction site. I have some cooperation with the partners and subcontractors each day. I have to handle quickly the problems and questions coming up. I do not have two days all the same, and none of my days is boring. I have to travel a lot, sometimes I drive a few thousands kilometers a month.
What do you think, what are the main qualities which are necessary for being a civil engineer?
The most important is good problem-solving skill, the great flexibility, the conscious responsibility and not the least is common sense. Over these, very important to be open for new knowledge.
To whom would you recommend working abroad as a civil engineer?
I suggest it to everyone, to spend more or less time in a foreign country. I do not mean that everyone should work abroad for years, but it is worth to get another point of view and some foreign experiences to utilise it at home. For working abroad you need great flexibility, because the travelling and the dioeciuos life could be exhausting. But if someone is motivated, and not only for the financials, she or he surely come home with valuable experiences both in work and in everyday life.