Short description:
I.      A TDK kutatás célkitűzése, megválaszolandó kérdések
A közúti közlekedésben résztvevők akadályozzák egymás szabad áthaladási lehetőségét. Ennek jelentősége különösen a nagyforgalmú, kapacitáshiánnyal szenvedő városi csomópontokban értékelődik fel. A Hallgató feladata, hogy az általa kiválasztott csomópont(ok)ban vizsgálja meg az akadályoztatás mértékét, elemezze a kapott adatokat és tegyen javaslatot az esetleges fejlesztési lehetőségekre.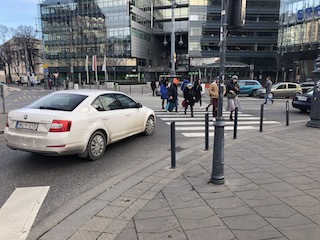 II.      Szakirodalmi munkarész:
Tekintse át a témában releváns, jelenleg érvényben Útügyi Műszaki Előírásokat, mutassa be azokban alkalmazott elméleti hátteret ill. tárja fel, hogy mikori forgalmi viszonyokra alapul az abban szereplő egységjármű szorzók.
III.      A kutatás önálló munkarésze:
·       Konzulense segítségével válasszon ki jellemző csomópontokat, melyen mértékadó időszakban saját forgalmi felvételeket végezzen el.
·       A forgalmi mérések segítségével határozzon meg új egységjármű szorzókat.
·       A meghatározott egységjármű szorzókat vesse össze az Útügyi Műszaki Előírásban szereplő értékekkel
·       Értékelje vizsgálati eredményét
IV.      Javasolt szakirodalom:
[1] Magyar Útügyi Társaság, e-UT 03.03.21 - Szintbeni közúti csomópontok méretezése és tervezése (aa KTSZ kiegészítése), 2004.
[2] Magyar Útügyi Társaság, e-UT 03.03.31 - A jelzőlámpás forgalomirányítás tervezése, telepítése és üzemeltetése, 2009.
[3] Transportation Research Board of The National Academies: HCM 2010, 2010.