Short description: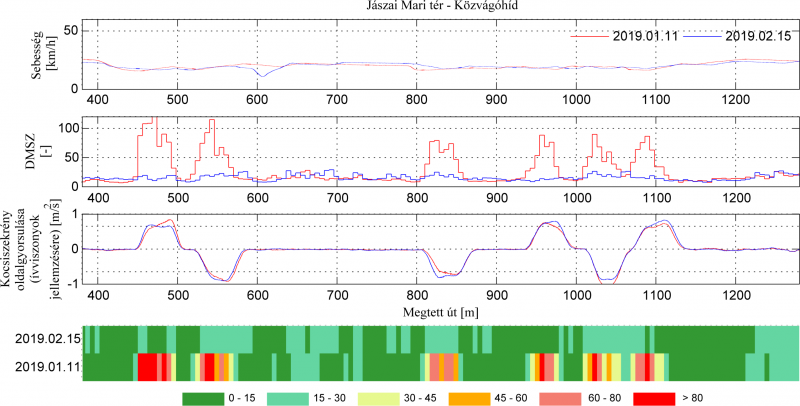 A Síngondozási munka hatékonyságának megítélése
síncsiszolás előtt és az azt követő inerciális mérések alapján
(2-es villamos, Kossuth tér bal vágány)
I.  A TDK kutatás célkitűzése, megválaszolandó kérdések
A gördülőfáradásos sínhibák megjelenési formáit jelentősen befolyásolják a különféle vasúti üzemekben alkalmazott pályaszerkezeti megoldások, a pályageometriai, valamint a járműtechnika, és az igénybevételek erősen eltérő sajátosságai is. A jelölt feladata, hogy szakirodalmi források, saját megfigyelések és szakemberekkel folytatott konzultációk alapján gyűjtse össze a gördülőfáradásos sínhibák jellegzetesen közúti vasútra jellemző megjelenési formáit.
II.  Szakirodalmi munkarész
A szakirodalom tükrében röviden mutassa be a gördülőfáradásos sinhibák (RCF) típusait, megjelenési formáit, valamint térjen ki az RCF hibák azonosíthatóságára és a kiértékelés módjára is;
Ismertesse az RCF hibák megelőzésének-, illetve a már megjelent hibák kezelésének a városi- és nagyvasúti üzemben jelenleg alkalmazott módszereit.
III.  A kutatás önálló munkarészei
Egy kiválasztott sinhibára vonatkozóan jelöljön ki vizsgálati helyszíneket, amelyek vizuális állapotfelmérése alapján gyűjtse össze a hibatípus jellemzően közúti vasútra jellemző megjelenési formáit, jellegzetességeit;
A rendelkezésre álló mérési adatok és saját vizuális megfigyelése alapján hasonlítsa össze és értékelje ki a síngondozást megelőző és azt követő feljavított pályaállapotot egy megfelelően kiválasztott közúti vasúti helyszín esetén;
Tapasztalatok összefoglalása.
IV.  Javasolt szakirodalom
[1]     Anika Dey, Ralf Casperson, Rainer Pohl, Hans-Martin Thomas Bam: Die Klassifizierung von Oberflächenfehlern in Schienen mit der Wirbelstromprüfung, Berlin, 2009
 [2]    Stuart L. Grassie: Rail corrugation: characteristics, causes, and treatments, Wedemark, Germany, 2009
V.  Felkért külső konzulens:
Brautigam András, BKV Zrt.